About IDEAS Academy
Creating Agents of Change
IDEAS Academy at Houston Community College's West Houston Institute prepares students with the mindsets and skillsets most needed today to address the challenges and realize the opportunities of a digital and global 21st century. "IDEAS" stands for Innovation, Design, and Entrepreneurship in the Arts and Sciences. We believe it is the intersection of these disciplines that will lead to a more sustainable and resilient future here in Houston and beyond.
IDEAS Academy develops students who:

Develop a unique creative identity that connects personal passion to meaningful purpose in the world.

Utilize the methods of design thinking, agile, and lean startup to create solutions to complex problems.

Apply digital approaches to augment their own creativity and scale their concepts from prototype to production.

Work with teams, experts, and networks locally and globally to collaborate and exchange knowledge and ideas.

Make connections across human-created and natural systems to contribute towards a sustainable and resilient future.
Dimensions of Experience
The IDEAS Academy experience involves multiple dimensions working together in synergy to develop the whole student. These dimensions form the basis of every program in ways that are uniquely relevant to each cohort as determined by the faculty leads. The student is at the center. In addition to the cohort experience, IDEAS Academy seeks to impact each member at the personal level to make this experience unique for them and meaningful as they develop along their learning pathway and into their roles in professional and civic life.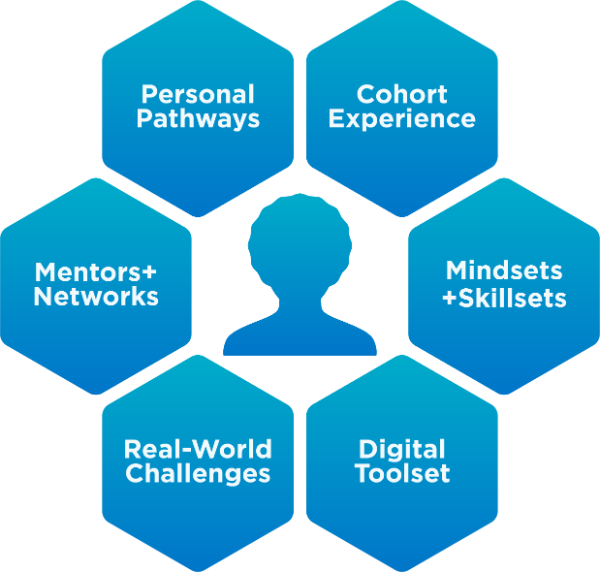 Develop Your Mindset & Skillset
IDEAS Academy introduces students to a core set of mindsets and skillsets, ways of thinking and doing, to empower them to become creative leaders in our digital and global 21st century. As part of their experience, students choose their own path through them based on their unique goals.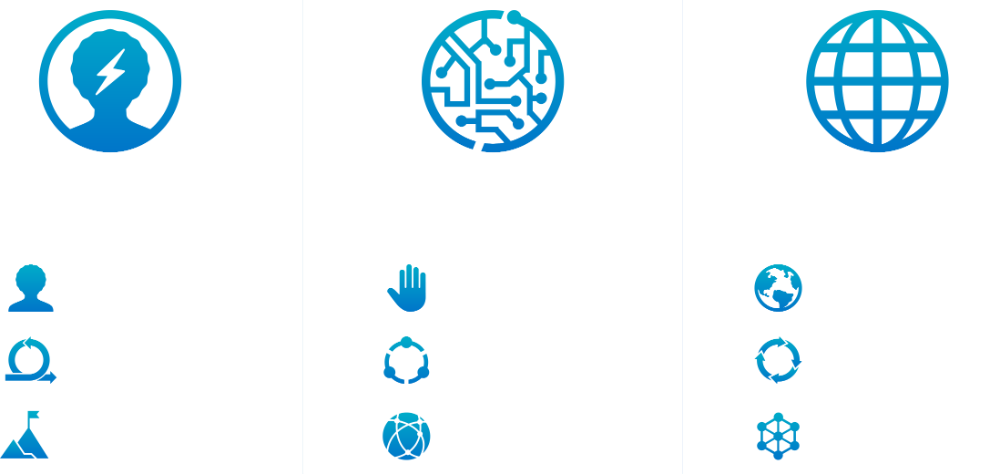 Engage in Real-World Challenges
IDEAS Academy introduces students to the concept of "wicked problems" through complex social challenges that they address through the creation of original projects. Real-world challenges provides students with a praxis experience that complements the more theoretical Mindsets + Skillsets experience by providing them a live context in which to practice what they have learned.
Project work is begun towards the end of the first semester and then takes over most of the second semester. At the end of the year, students invite their peers and the community to a closing festival that reflects the theme from the year and allows participants to engage in their projects and learn about their experiences.
Explore, Imagine, Create: The IDEAS Helix
An iterative creative process is followed based on classical design thinking methods for project work. This approach provides students with practice in user research and fieldwork, ideation processes, collaborative teamwork, prototyping, and testing, and launching of their ideas.
The creative process for the challenge is organized into three phases: Exploration, Imagination, and Creation with the additional process of Iteration throughout. Each phase guides the cohort through a divergent and convergent decision-making process that can be visualized as a helix diverging at each phase's start and converging at its end.



Approaches to Project Work
Once students have found their focus for their projects, they are open to deciding what kind of project they will develop. As part of the learning experience, students are taught to see the complex ways in which we engage with ourselves and with our environment and how that is creatively expressed through both the arts and sciences. For this reason, students are given the choice of four kinds of real-world approaches to pursue based on their interests and the nature of their projects:
Sustainable Goods and Services
Public Art and Cultural Works
Social Awareness Campaigns
Open Source Technologies
Data & Research for Policy Advocacy