Pretta VanDible Stallworth, Ph.D., PMP
Pretta VanDible Stallworth, Ph.D., PMP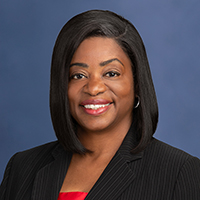 Dr. Pretta VanDible Stallworth was elected in December 2017 to represent District IX on the Houston Community College Board of Trustees. She is an HISD graduate of Reynolds Elementary, Woodson Middle, and Worthing High District IX schools.
Trustee VanDible Stallworth also served as the first HCC District IX Board member from 1989-1993. During the five-year tenure, the appointed board transitioned the community college from a president-directed, shared-facilities entity with the Houston Independent School District to an independent chancellor leadership system with six colleges.
Trustee VanDible Stallworth holds a Bachelor of Science and Master in Chemical Engineering from Rice University, Bachelor of Science in Chemistry from Texas Southern University, and an MBA and a Ph.D. in Christian Education. She is also a Project Management Professional certified by the Project Management Institute International and holds a Minority Business Certification from Dartmouth College Tuck School of Business.
Trustee VanDible Stallworth is an adjunct professor and has taught 16 courses at the university, two-year college, business, and corporate training levels for over 30 years. She is a corporate trainer for the Certified Associate in Project Management course, a curriculum designer, and online course developer. The trustee designed and developed two emotional abuse awareness curriculums: the "Learn about Emotional Abuse Program" (LEAP) utilized in the Harris County Family Law Courts, and the LEAP-E Tool Kit for educators.
As a consultant for Witty Inventions, Trustee VanDible Stallworth provides business-to-business project management, commercial cost estimation, construction support, business development, and operations. Consulting support services were also provided for the Texas Pulse Oximetry Project Model, an award-winning national model for screening for the early detection of Critical Congenital Heart Defect in the apparently healthy newborn before hospital discharge. She also consulted on the Honey Child Prenatal Education Program that provides African-American women with culturally-appropriate information and support needed for healthy pregnancy and birth outcome.
Trustee VanDible Stallworth serves as a board member of the Association of Rice University Black Alumni and is president of Parents for Public Schools of Houston. She served as a Boy Scouts of America Troop 740 parent volunteer, merit badge counselor and Friends of Scouting coordinator. The trustee was the 2010 President of the Ft. Bend International Festival. Trustee VanDible Stallworth served as Chaplain for Senate District 13, precinct 555 chair, and election judge for three years. She currently serves on her community HOA Board.
Trustee VanDible Stallworth was owner and manager of Computer & Technology Support Services for over 16 years. The Mississippi-based small business concern held contracts with Department of Defense military divisions. The company participated in the 2005 federal disaster recovery Katrina effort in Mississippi. CTS contracted with the U.S. Army Corps of Engineers and provided technical expertise and information systems support in Mississippi, including the Vicksburg District, Keesler Air Force Base-Biloxi, Gulfport, Gautier, Diamondhead, and Hattiesburg.