Honors College
HCC Honors College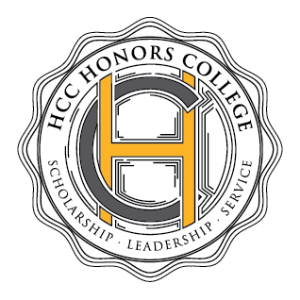 Applications for Fall 2023 are now closed. Applications for Spring 2024 are now closed. Contact the Honors College Directors for more information.
The Honors College at Houston Community College is a place where talented students like you study together with inspiring faculty members as part of an exciting learning community.
Your courses will be interdisciplinary and built around themes that will challenge you intellectually. And since your classes will be small and highly interactive, you will get to know your fellow students and professors in a more in-depth learning environment.‌
In addition to your honors classes, you will meet with other Honors College students in a weekly seminar to develop and enhance your leadership skills. Not only are we committed to helping you earn your academic degree in two years and transfer to a four-year university, but we also are committed to helping you reach your full academic potential in a structured learning environment.
Apply for the Honors College
Learn more about the Honors College
Honors College
For more information please reach out to:
Dr. Darin LaMar Baskin
Executive Director, Weekend and Honors College
Email Contact: darin.baskin@hccs.edu
Direct Number: 713-718-6071
3100 Main, Houston, TX 77002