IDEAS Academy Activities Spring 2018
Alief Early College High School "How can we connect Houston's neighborhoods with fresh and healthy food?" City of Houston, Office of Innovation Challenge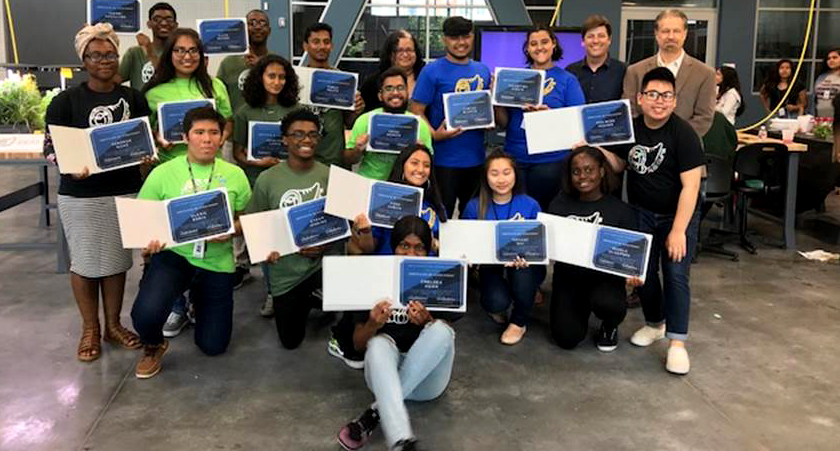 About the Spring 2018 Cohort
Houston Community College's West Houston Institute selected 20 seniors from Alief ISD's Early College High School in Spring 2018 to launch the inaugural cohort of IDEAS Academy. We partnered with the Houston Mayor's Office of Innovation to provide students with an authentic design challenge to address over the course of the semester.
Students were introduced to the systemic nature of food systems and the ways in which they can fail some communities. This included growing our own food in the classroom with indoor hydroponic gardens. Students engaged with public officials, community organizations, and entrepreneurs addressing issues related to food security. Students learned to used design thinking methods to move from the initial challenge definition to the creation of several unique projects.
At the end of the semester, the cohort hosted students in grades 9-11 in a final event they called "The Foodture" where they created a unique and engaging experience to invite students into their learning process and introduce them to their work. Click the button below to learn more about their activities and final projects.
Faculty Facilitators
Jordan Carswell, Program Director, IDEAS Academy
Alexandra Almestica, Public Services Librarian, HCC Libraries
Learn more about this cohort's activities
IDEAS Academy
Jordan Carswell
West Houston Institute
2811 Hayes Rd., Houston, TX 77082
IDEAS Academy
Jordan Carswell
West Houston Institute
2811 Hayes Rd., Houston, TX 77082