HCC Eagle Market at HCC Central
Sharing is Caring
---
Now is a great time to share with your Eagle Family.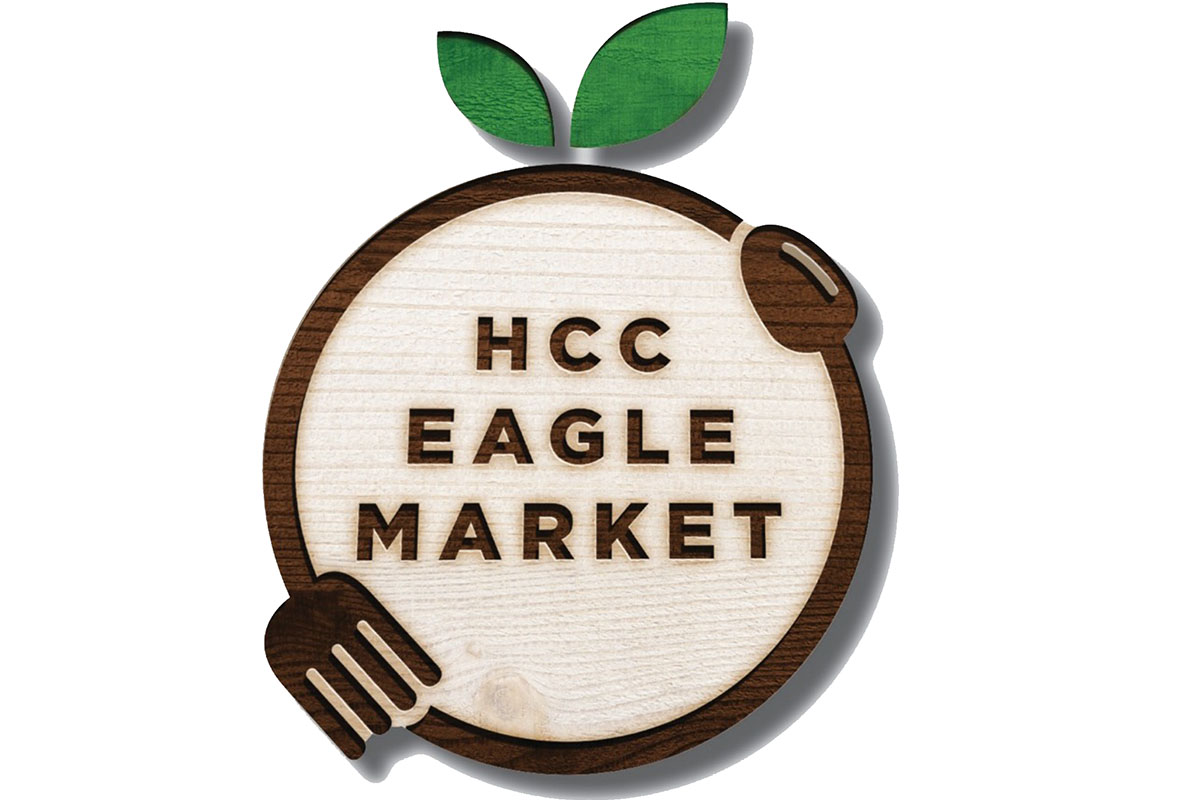 About the HCC Eagle Market
The HCC Eagle Market is a Success and Completion Intervention program to help HCC students stay on course and finish strong.
General Guidelines
The Eagle Market is open to currently enrolled HCC students, HCC faculty and staff.
Students must present a valid HCC student ID.
Visitors will complete a brief questionnaire before starting the food- selection process.
Visitors can choose between Grab-N-Go and Self Selection as food- selection options, depending on need and time constraints.
After completing the food-selection process, visitors will be required to check out with the Eagle Market staff.
While there is no limit on the number of visits to the HCC Eagle Market, it is designed to provide momentary aid.
Visitors with more-critical food insecurities, we recommend a basic- needs assessment with a counselor or financial aid coach to make every attempt to provide additional community resources
The above criteria are applicable to the on-campus HCC Eagle Market.
HCC Eagle Market hours are subject to change each semester.
HCC Eagle Market Item Color Code for item acquisition
Protein and Protein Alternatives (Max 5 Items)
Fruits and Vegetables (Max 3)
Grains, Breads, Cereal, Rice, Pasta (Max 3)
Snacks and Sweets (Max 2)
MISCELLANEOUS ITEMS
Beverages - MAX 2 | Toiletries - MAX 3 | Baby Items - MAX 3
Adopt-a-Shelf Program
To help restock the HCC Eagle Market
The HCC Eagle Market has shelves based on the following food/meal categories, such as Breakfast, Lunch or Snack items.
The Adopt-A-Shelf program allows supporters to make contributions per shelf. Consider making your contributions based on the categories appearing on the following pages.
Make it a team goal! HCCdepartments and divisions are welcomed to contribute as a group to fill a shelf.
Breakfast Items
Small cereal boxes/packets
Individually wrapped breakfast sandwiches Breakfast bars (any type)
Instant breakfast powders Individual Oatmeal
Dried Fruit / Single fruit cups
Small Honey (1 oz. or small packets in bulk) Single-serving sugar packs
Small individually wrapped raisins Single-serving instant coffee packets Single-serving tea packets
Single-serving frozen breakfast foods
Lunch Items
Individually packaged chicken (such as, Swanson white chunk chicken or Star-Kist Chicken creations)
Individually packaged tuna fish (such as, chicken of the sea) Individually packaged smoked salmon (such as, chicken of the sea) Single-serving chips
Mini-sized sodas (7.5 oz.)
Small packaged (6 pack) 8-12oz. water Small size peanut butter
Cup a Soups
Mini-sandwiches (if individually wrapped/packaged) Crackers
Small pasta Ramen noodles
Mac-n-cheese cups
Dinner Items
Dry Pasta
Small Sauces for pasta Rice
Couscous Quinoa cups
Vegetable cups (such as, Libby's microwavable vegetable cups) Beans in a cup ( such as, Kroger Cut Green Beans with Sea Salt) Small packs of dry beans
Single-serving meals (Individually wrapped)
Single-serving hamburgers (beef or pork) (Individually wrapped) Single serving hotdogs (beef or pork) (Individually wrapped) Mac-n-cheese cups
Nonfat dray mild and Powdered milk Instant Ramen Noodles
Potatoes flakes
Snacks
All types of snack bars Individually packaged chips
Single serving of pudding, Jell-O, crackers and cheese packs Individually packaged cookies
Individually packaged Granola bars Individually packaged Popcorn Pretzels (single serving)
Meat sticks (beef/turkey jerky, etc.) Veggie broth snack single-served cups Variety tea packs
Individually packaged Fruit juices/small Gatorades
Small packaged (6 pack) 8-12oz bottled water
Individually packaged Cheese sticks Apple sauce
Individual nuts and seeds
Bumble Bee Snack/Salad Kit, Chicken and Tuna
Miscellaneous Items
Can openers
Single-serving condiments
Small first-aid items (alcohol wipes, antiseptic Band-Aids) Small sandwich bags
Small, single-serving peanut packs (move under snacks)
Individual Plastic ware
AAA batteries AA batteries
Garbage bags
Sponges
Small dishwashing soaps (12 oz.) Cleaning wipes
Paper towels
Laundry detergent (small, 20–40 oz.) Bleach (small, 20–30 oz.)
Phone charger
Toiletries
Razors
Small shaving creams Individually wrapped bar soap
Small liquid body soap
Small shampoo, Small conditioner, Small Toothpaste
Toothbrush, Dental floss. Toilet paper
Small Paper towel rolls, Small deodorants
Small packaged antibacterial Sanitizer wipes, Hand and body lotion
Feminine/Baby Items
Diapers/pull-ups (any size)
Feminine products: tampons/ napkins/personal wipes packs Baby food (4 oz. pouches)
Small creams/lotion
Small, packaged baby wipes
Baby ointment (Desitin, Aquaphor, A&D Diaper Rash, Butt Paste)
Small, soft blankets
Baby formula (powder)
Distilled water for baby formula
School Supplies
Pens/Pencils (mechanical preferred) File folders
Spiral notebooks
Paper (college-ruled, blank, colored, construction)
Poster board (white and colored)
Plastic organizing packs Tape
Crayons
Markers
Pencils
Glue sticks
Scissors
Rulers
For more information
Sandra Shimba
Visitors can make appointment to use the Market at this Link: hccs.edu/central-eaglemarket
Hours of Operation:
Monday, Tuesday, Wednesday : 10am - 4:30 pm
Wednesday, Thursday : 10 am -5:30 pm