Interim Chancellor Search
In a special meeting held on June 20, 2023, the Houston Community College HCC Board of Trustees announced the selection of Margaret Ford Fisher, Ed.D., as the sole finalist for the Interim Chancellor position, effective September 1.
Additional information about Dr. Ford Fisher may be found below.
Biography of Margaret Ford Fisher, Ed.D.
---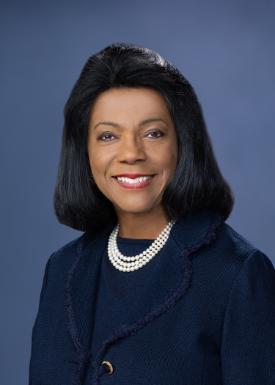 Dr. Margaret Ford Fisher is the founding president of Houston Community College (HCC) Online, the seventh HCC College established February 2018. The Online College was recognized by Newsweek as "One of America's Best Online Colleges" for 2022 and 2023. As founding president of HCC Online, Ford Fisher has led her team to establish more than 60 fully online degrees and more than 70 hybrid programs with an annual enrollment that has exceeded 62,000 unduplicated student enrollments.
Prior to her Online College presidency, Ford Fisher served 20 years as president of HCC Northeast College. There, she led two successful capital campaigns and community support for annexation by the HCC District with 73% voter approval. She was instrumental in developing new, leading-edge STEM programs in energy and biotechnology, securing federal and state grants, gaining philanthropic support, and brokering relations with business and industry that led to high-tech, stackable-certificate programs and state-of-the-art facilities and enrollment of 14,000 students.
Since joining HCC in 1985, Dr. Ford Fisher has served in multiple leadership positions leading to the presidency, including Interim Vice Chancellor of Instruction, Associate Vice Chancellor of Academics, Dean of Instruction, Division Chair of Arts & Humanities, and Department Chair of English, as well as English professor. She has also taught at Texas Southern University, the University of Houston, and Wichita High School South, and worked as a community relations specialist for a governmental agency. For nine years, she served as assistant professor of Intercultural Communications and International Relations at Wichita State University (KS).
Dr. Ford Fisher has been a lifelong advocate for education locally, nationally, and internationally. She is a long-time member of the HISD advisory committee and a lifetime member of the NAACP, as well as a long-term advisory committee member for the Houston Area Alliance of Black School Educators and board member of the National Congress of Black Women. She is a past board member of the Greater Northside Chamber of Commerce, as well as the Greenspoint and Heights Chambers of Commerce. Nationally, she served on the International Relations Commission of the American Association of Community Colleges (AACC) and is a current member of AACC's Commission on Technology and Infrastructure Support. She served a three-year term as an elected AACC board member and represented the organization before the U.S. House of Representatives Subcommittee on Energy for reauthorization of the National Science Foundation. She also served as AACC spokesperson at the international meeting of foreign ministers of education in Windsor, Canada to promote advanced technology education. Additionally, she presented at the University & College Teaching and Learning conference in Lausanne, Switzerland and the Oxford International Roundtable for Community College Presidents in Oxford, England.
Her numerous awards and honors include the Lifetime Achievement Award from the Honorable Congresswoman Sheila Jackson Lee at the Rice University Community Forum upon her 2012 publication Learning for Ownership; Senior Education Advisor designation by the Honorable Rodney Ellis, former State Senator; and recognitions from the Top Ladies of Distinction, Eldorado Social Club, L & S Academy, and Acres Homes Chamber of Commerce. Dr. Fisher also received the LULAC Council 42 Appreciation Award, the W. E. B. DuBois Award from the National Alliance of Black School Educators, the District Award of Merit from the Sam Houston Council of Boy Scouts of America – Antares District, and the Visionary Leaders Award for 20 years of Exemplary Service from the Northeast College faculty and staff in December 2017.
Dr. Ford Fisher is an author of more than 50 publications and four books, including the first book focused on dual credit, High School Students Earning College Credit: Guide to Creating Dual Credit Programs (1996), which bolstered dual credit enrollment across the country and received national and international acclaim.
Dr. Margaret Ford Fisher holds a Bachelor of Arts in English and a Master of Arts in the Teaching of English from Wichita State University, as well as a Doctorate of Education in Curriculum & Instruction from the University of Houston. While at Wichita State University, Dr. Ford Fisher was nominated by Rhodes Scholar and former University President, Dr. Emory Lindquist, to participate in the Study Abroad Program at Oxford University in the field of International Relations.
Houston Community College (HCC) is a diverse and complex public institution of higher education, recognized for its diversity and entrepreneurial service to its community. HCC is accredited by the Southern Association of Colleges and Schools Commission on Colleges (SACSCOC) to award baccalaureate and associate degrees; in its recent decennial review, HCC's accreditation was reaffirmed by SACSCOC until 2032 with no recommendations.
HCC is one of the nation's largest institutions of higher education, offering more than 100 programs of study to more than 60,000 students each year through its 14 Centers of Excellence across 23 campuses/centers and online. A virtual tour of HCC's state-of-the-art learning spaces provides academic pathway and campus information for students and the community, as well as links to support services team members. In fall 2023, HCC will offer its first two bachelor's degree programs in Artificial Intelligence & Robotics and Healthcare Management to meet growing workforce needs.
HCC's student body reflects the growing diversity of its region, with approximately 41% of students identifying as Hispanic/ Latino, 27% as Black/African American, 12% as White, and 13% as Asian. HCC employs over 5,000 full-and part-time employees and is a major employer in the region. For more institutional data, see HCC Fast Facts Spring 2023.
The College and its talented faculty and staff are recipients of numerous local, state, and national awards and recognitions, including the 2022 Bellwether Award in Workforce Development and top national ranking among community colleges traditionally underrepresented graduates. Recently, HCC was named one of 19 Leader Colleges by Achieving the Dream (ATD), a national nonprofit dedicated to advancing colleges as hubs of equity and mobility in their communities.
MISSION
Houston Community College is an open-admission, public institution of higher education offering a high-quality, affordable education for academic advancement, workforce training, career development, and lifelong learning to prepare individuals in our diverse communities for life and work in a global and technological society.
STRATEGIC PRIORITIES
Six key priorities form the focus of HCC's Comprehensive Strategy Framework:
Student Success
Diversity and Equity
Personalized Learning
Academic Rigor
Community Investment
College of Choice
The Community: Houston, Texas
Houston Community College has served the Greater Houston area for over four decades. HCC's service area spans more than 600 square miles of Harris and Fort Bend counties with a population of more than 2.5 million, including Houston ISD, Katy, Spring Branch, Alief ISD, Stafford Municipal District, and the Fort Bend portion of Missouri City.
Houston is the 4th largest city and 2nd fastest growing major metropolitan area in the country. It is a major corporate center, home to 25 Fortune 500 companies, and internationally recognized for its energy, biomedical research, aerospace, technology, and healthcare industries. Prized for its diversity, the Houston metropolitan area is considered one of the best places to live due to its quality of life, affordable cost of living, and welcoming atmosphere.
Interim Chancellor
The primary responsibilities of the Interim Chancellor of Houston Community College are to ensure the ongoing access, support, and success of the students of the communities served by HCC, while leading the District and inspiring confidence and trust. The Interim Chancellor is entrusted with performing all duties relating to daily operations of the College.
EXPECTATIONS
During this transitional term of service, the Interim Chancellor will support the Board of Trustees in advancing their goals:
Monitor approved performance targets and advance Board priorities of increasing enrollment, retention, and completion (accelerating the closure of achievement gaps), while promoting academic rigor and an inclusive environment for students, faculty, and staff.
Promote an organizational culture centered on student success and achievement.
Support a climate of mutual trust among Board members.
Strive for excellence in planning, governance, communication and the support of diversity, equity and inclusion system-wide.
Hold each other to the highest ethical standards, requiring honesty and personal responsibility.
DESIRED ATTRIBUTES
The preferred candidate will demonstrate the following proven personal and professional attributes:
Exhibits integrity, transparency, humility, evidence-based decision-making, and flexibility in all College matters.
Sustains and builds on HCC's positive momentum of success.
Partners effectively with legislative, community, and business leaders about funding sources, programs, cooperative relationships, and other matters affecting the College.
Works successfully and collegially with a diverse group of internal and external constituencies within established processes.
Maintains open channels of communication with the Board and with internal and external College communities.
QUALIFICATIONS:
Documented track record of effectiveness as a senior administrator in higher education.
A doctorate from a regionally accredited institution is highly preferred.
Experience in a multi-campus urban/suburban and diverse setting is highly preferred.
Houston Community College Interim Chancellor Search Timeline
Date
Action Item

April 21, 2023

Interim Chancellor Search Planning: HCC Board met with ACCT Search Consultant to define the following:

Priorities & Expectations for Interim Chancellor
Terms of Interim Chancellor service
Search Process, Committee, & Timeline
Communication Strategy

May 17, 2023

Board approved Timeline & Draft Position Announcement

May 19, 2023

Position Announcement: Job profile posted on HCCS.edu and acctsearches.org. National advertising placed. Local, state, and national recruitment commences. Board Chair sends announcement to internal and external college community.

TBD

Board Interim Search Orientation. ACCT Consultant meets with Board members for orientation to search process & application review

June 4, 2023 (midnight CST)

Target Date for Receipt of Applications (open until filled)

June 5-8, 2023

Application Review: Board members independently review confidential applications and submit ratings by midnight, Thursday, June 8.

June 9-10, 2023

Candidate Selection: ACCT Consultant meets with Board for identification of
3-5 confidential candidates for video interviews and development of interview protocol.

June 14-16, 2023

Video Interviews: Board conducts video interviews with candidates; determines 2-3 finalists for in-person interviews with Board; develops in-person interview protocol.

June 17-20, 2023

Background and Reference Checks: ACCT conducts confidential background and reference checks on finalists and reports findings to Board.

June 20-21, 2023

Finalists Meetings & In-Person Interviews: Final candidates meet with College Leadership Team/Chancellor's Direct Reports and interview with the Board; Board deliberates and selects Interim Chancellor.

Special meeting TBD

Appointment: Board votes to approve HCC Interim Chancellor contract. Board Chair sends announcement to internal and external community.

July - August, 2023

Transition/Consultative Support for Interim Chancellor-elect

Chancellor and ACCT Consultant provide transitional and consultative support for Interim Chancellor-elect (after meeting with Board and Interim Chancellor- elect to determine extent and type of support desired)

September 1, 2023

Tentative Start Date (or as agreed upon by Board of Trustees, Chancellor, and Interim Chancellor)
How to Apply: This is a confidential search process. To ensure full consideration, application materials should be received no later than Sunday, June 4, 2023. The position will remain open until filled.
To apply, email the materials requested below to: acctsearches@acct.org [Please submit either PDF or Word documents.]
Candidates must submit the following materials to complete the application:
A cover letter of no more than 5 pages describing how you are prepared to meet the expectations & desired attributes noted above.
A current resume including an email address & cellular telephone number.
A list of 5 professional references, including email addresses & cellular telephone numbers.
For additional information, nominations, or confidential inquiries please contact:
Dr. Cindy Miles, ACCT Consultant
cmiles1779@icloud.com
(619) 322-8824
Contact Us
Board Services Office
General Office Hours: Monday-Friday 8:00 a.m. to 5:00 p.m.
In-Person Hours: Monday-Thursday 9:00 a.m. to 12:00 p.m.
MC 1102 P.O. BOX 667517, Houston, TX 77266-7517